Alcatraz, San Francisco, California, USA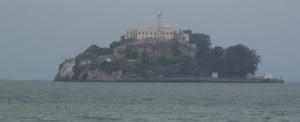 We had the rare opportunity this month to join the Quarry Hill volunteers for a special tour of the gardens of Alcatraz: what a unique gardening experience!
       While you may think of Alcatraz as a prison, the island was also home to many
families who did their best to have a normal life in this inhospitable spot. Beginning in 1849 when the military established the fort, there were homes for staff and families on the island. Although gardening was limited by a severe lack of soil (it had to be brought in from Angel Island by boat) and water (storm water catchment, and gray water from the prison showers was the only source for irrigation), both families and prisoners persevered in their efforts to beau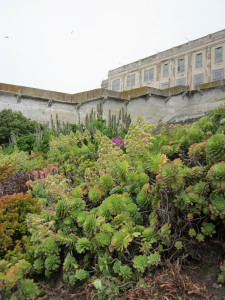 tify and soften the edges of "The Rock".
When the prison was closed in1963, the gardens were left untended and many disappeared during the subsequent 40 years of neglect. But the Garden Conservancy, in partnership with the National Park Service, saw the potential to restore and recreate a time capsule of early American gardening on Alcatraz. With the help of many volunteers, they took on the enormous task of renovating the gardens in 2003.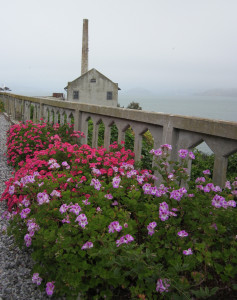 Today, the gardens, tucked into tiny protected spots between buildings and roads, are quite lovely. Some of the original plants have survived and been rediscovered: 10 types of roses, ivy-leaved geraniums, succulents, ivy, and figtrees were among the tough plants found surviving in the rubble. New plantings have been made in the style of the early 20th century: many photos survive from those earlier days which have helped the Conservancy in their restoration efforts.
We enjoyed a lovely day out on "The Rock", and I hope you will have the chance to visit this historic museum and garden.
---
Company website: http://www.nps.gov/alca/index.htm
Local Tourism Office: http://sfgov.org/visitors
Country Visa info: http://travel.state.gov/content/visas/english.html
Where and how to get there: http://www.nps.gov/alca/planyourvisit/directions.htm
Cost: $19-31 (this is a private vender providing the boat ride, prices subject to change without notice.)
Time: Allow 2-4 hours on the island.
The hours of operation vary with the season
– departures are available about every half hour throughout the day beginning at 9:00am. Evening tours and combined Angel Island – Alcatraz Island tours are also available seasonally.
Alcatraz is open every day except Christmas,Thanksgiving and New Year's day.
Alcatraz frequently sells out in advance, as much as a week or more in summer and near holidays. For schedules, prices, and to purchase tickets in advance please visit the Alcatraz Cruises website.
Food: none on the island, but food is for sale on the ferry.
Family experience: Excellent choice for older (well behaved children), who are interest in history.