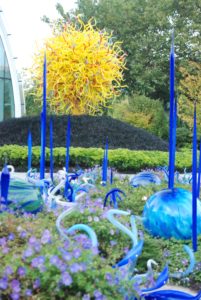 If you love colorful art glass and gardens, don't miss the Chihuly Garden and Glass museum on your next trip to Seattle!  I have been a Chihuly fan for many years: I think his work is just fantastic, and now he has a new gallery purpose built to showcase his wildly extravagant creations: details at chihulygardenandglass.com.  His work is so imaginative, and I loved seeing the shiny colorful glass complementing the plants in the specially designed garden located right next to the Space Needle in downtown Seattle.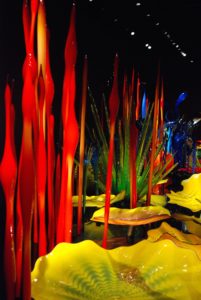 If you want to stay in a home, rather than a hotel, here is a website for a family owned business with homes and apartments in Seattle which you might wish to consider when you plan your visit to Seattle.  www.seattlevacationhome.com
Given that this is a family owned business and not an international chain of hotels, please be sure that you are completely certain about the dates and the location before you book, and read the policies regarding cancellation, etc., on their FAQ page.  Our experience showed that the company was very helpful in providing information and they were quite kind in our email conversations.