Kea Ora: greetings from New Zealand! What a wonderful country with such a unique set of plants! You are probably familiar with some of their great garden plants: the New Zealand flax (phormium) and New Zealand tea tree (leptospermum) are pretty commonly grown in our area. It is fun to see them in their native settings. I am surprised to see that flax grows wild on the edges of lakes and streams: amazing that it also tolerates such dry conditions in our gardens.
Thanks to Home Exchange, we are staying in a small house near Rotorua, in the middle of the North Island, where we are near many lovely forest walks. The native forest here is a temperate rain forest and the main trees are tree ferns: amazingly beautiful tall  columns sprouting their new fiddle heads in the spring sunshine. The forest floor is covered with more ferns in all shapes and sizes. I'm particularly fond of the Blechnum novae-zelandiae, called kiokio by the Maori people, with its luscious orange tints on the new leaves: it is cold hardy and should do well in Sonoma County if kept moist and shady (remember it loves the rain forest!).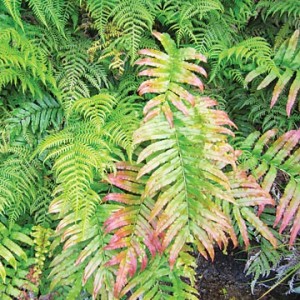 We had an amazing day out at Waimangu Volcanic Valley: an all day walk, bus ride, and boat trip through an active geo-thermal area; the last major eruption was only 150 years ago at Mt. Tarawera! The sights and sounds of steaming lakes, bubbling 'hot pots', and spouting geysers surrounded by stunning native woodlands and mountainsides are incredible. The reserve includes plant labels and information about the unique Eco-system that surrounds this hot spring area as well as the history of eruptions and tourism. You are free to wander the extensive grounds at your own speed, stopping to enjoy every feature large and small: the free shuttle bus will take you up or down the hill when your feet get tired.
The tea trees (leptospermum) grow just about everywhere, including on the HOT edges of volcanic springs: amazingly adaptable!
One of my favorite NZ grasses also grows almost in the hot water streams: Stipa arundinacea, also known as pheasant tail grass, (recently re-classified as Anemanthele lessonianana). I do love this mid-sized grass with its orangy/bronze color and tidy habit for year-roundcolor in a nice sunny spot.
Sometimes the best parts of our travels are happy accidents: we decided to break up the long drive back to Auckland with a stop in the small town of Hamilton where we found an awesome botanical garden! Back in the 1960s the town committed itself to building gardens representing all of the major gardening traditions, and they have really outdone themselves! English, Japanese, Indian, Chinese, Italian Renaissance, Maori, and Western Coast American gardens are all beautifully presented in an easy to navigate complex of circular walks. Cleverly separated by high hedges each garden is fully developed with buildings, bridges, arches, statuary, furniture and plantings all appropriate to the theme: wonderful! Check out their website at hamiltongardens.co.nz.
---
Where: Waimangu Volcanic Valley, 587 Waimangu Rd, Rotorua 3043, New Zealand
What to do there: hiking, picnicking, boat rides, bus rides, geysers, steaming lakes and streams, views, history
Company website: www.waimangu.co.nz
Local Tourism Office: www.rotoruanz.com
Country Visa info: US Citizens may visit New Zealand for up to 3 months without a visa
Where and how to get there: a short drive south of Rotorua, or take a tourist bus
Cost: Self-Guided Walk: $36 adults, $12 children 6-16: Walk and
Boat Combo: $78.50 adults, $24 children 6-16
Time: Open daily 8:30am to 5 pm
Food: Snack Bar at Entrance
Family experience: Excellent choice for children over 5 who can
follow directions: hot waters can be dangerous