Would you like to hear about our African safari?
We stayed at AndBeyond Kichwa Tembo Tented Camp in the Masai Mara tribal owned nature preserve area of Kenya. A truly amazing place and experience! The first surprise comes as soon as you get off your small commercial "puddle jumper" plane, at the camp's airstrip, where you will be met with refreshments, served by your nature guide.
Our driver meets us with hot tea and coffee, along with "biscuits" at the airstrip.The skill of our guide/driver enabled us to get really close to the action, and his knowledge of the animals' habits gave us real insight into the ways of wild.Up close and personal, with a family of elephants.
Kichwa Tembo features wonderful food, comfy tent cabins, and personal attention from your own tent butler: it was the experience of a lifetime!
To see nature in its almost pure form, and observe the daily habits of truly wild creatures: just amazing and awe inspiring. If you go will see two kinds of monkeys, lions, cheetahs, the elusive black rhino, herds of zebras, and families of giraffes,who are the ones who carefully groom the Acacia trees so that they have that African flat bottomed look.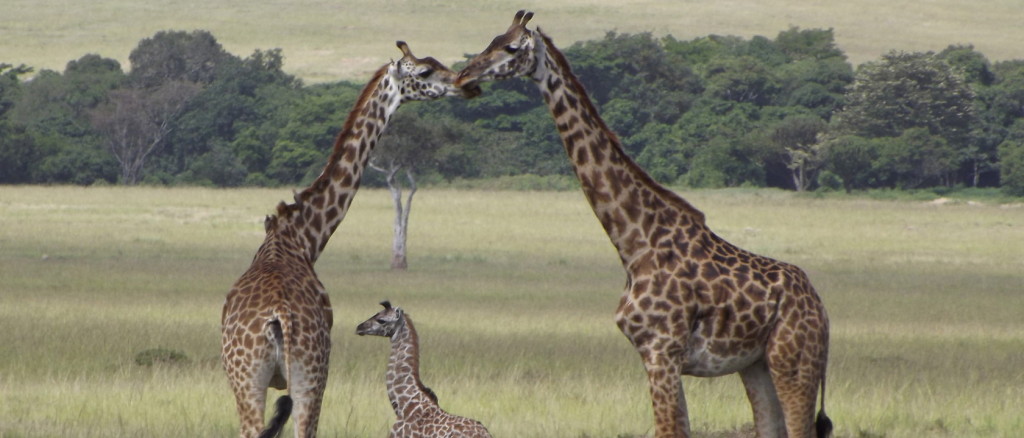 Mom, Baby and Dad make a heart with for Valentines' Day!
One of the animals is called "lion's sausage" by our guide, Daniel, but actually this cute critter is a wart hog. Wart hogs are quite amusing. They run in a funny way, they travel in a group in a straight line sorted from the tallest down to the smallest baby, and when they run, they put their tails straight up in the air. They are very fast and they can use their tusks when necessary, so only a very few become a lion's lunch.
The camp has tamed wart hogs who graze their lawns, so they don't have to mow the grass. No wonder they were included in the movie, The Lion King!
As reporters, we were given special "behind-the-scenes" tour of the "shamba" (Swahili for garden) where they grow many of the wonderful vegetables we enjoyed every day in the dining room: all organic and fresh picked. We spoke with head gardener Peter, who
explained their organic techniques and how they recycle water for irrigation.
Peter has an unusual problem in his garden: baboons!
In fact, the baboons are such a problem (even with an electric fence
enclosure),that they have two full-time "Baboon-chasers" on the payroll! Armed only with a slingshot, they patrol the garden all day and all night long to keep these clever marauders at bay! Many of us have problems with deer or other garden pests. But at least they can't climb trees and they can't dig up our plants.
Check out the website: andBeyond.com to see all their 30+ camps in different parts of Africa and India. They have received many awards including: World's Leading Responsible Tourism Award, and the GlobalVision Award for Wildlife Protection (Travel & Leisure Magazine). They believe in supporting and developing the local culture: we brought home some delicious honey that is the result of AndBeyond's beekeeping partnership with the local Masai people who live near Kichwa Tembo camp. They also are sensitive to the cultures, religions, and tribal identities of their 200 staff. They gave support to their staff made requests to build two different places of worship in their staff housing area and they provide a medical clinic to the local Masai tribal members.All good safari trips are expensive, but when you see the huge number of staff required to operate the camp, the generators that provide power, the food that all has to survive a long, dangerous trip, and the funds they put into leasing a reserve for the animals, it does seem like one is contributing to an important investment which provides locals with a worthwhile profession, while protecting endangered animals. Additionally, the staff are supporting hundreds of family members and paying for school fees for entire villages, back where they live when they are not working at the safari camp .If you go, use a regional airline to fly from the capital to your safari camp. It is safer and much faster then traveling overland.
Just seeing the wild baby elephants is worth making the trip!
---
Company website: http://www.andbeyond.com/kichwa-tembo-tented-camp/
Local Tourism Office: http://www.magicalkenya.com
Country Visa info: http://www.kenyaembassy.com/visa.html
How to get there: This is actually quite complicated. Once you pick the safari camp where you are thinking of going, begin an email conversation where you get all of the facts about the airline that goes to that camp's airstrip. Then check to see what it costs for your flight and which airport you will leave from Nairobi. Also note the very small amount of luggage you are allowed to bri ng. Next you need to see what the camp will charge to pick you up from their airs trip. Some camps charge up $100 to 200 USD to go for a 10 minute jeep ride. But you can't walk, as it isn't allowed and you may be eaten (truly) between the airstrip and the camp. We recommend AndBeyond (AndBeyond is one word) as they were the best we found as far as not having hidden, high fees. Their fees, once you consider the true cost for all items you are likely to want, are not significantly higher then the competition in this part of Kenya.
Do not rent a car or drive in Kenya. Take licensed, clearly marked taxis with meters to get from the airport to your hotel and later from the hotel to the regional airport. Even with the meter, get a verbal estimate of the cost before you get in the taxi.
Be careful where you stay in Nairobi. Many international hotels chains do not have good hotels in Kenya. Common report have to do with poor or corrupted security, which often allow people into the hotel who are not truly guests.
We found the Stanley Hotel to be expensive, but it is a safe, comfortable place to stay. The rooms not particularly posh by western standards, but it is charming and you can brag you stayed in Hemmingway's hotel. There is a grocery market only two blocks from the hotel. Do not go out at night
in Nairobi, unless you have adequate security.
Cost: $330-600 depending on the room and dates, per person. Includes several safari rides a day and all of their amazing food.
Additionally the expectation in Africa is that the Room Butler (a butler for you in your tent!), your waiter(s), and your driver/guide will get tips. The camp manager said that this is not a requirement, as they pay their people very well for Kenya and they even have health coverage for them. But in our opinion, it would be reasonable to give an amount similar to what one might give in the USA or UK for good service. For the room butler, about $1-2 per day, the waiter (split among them if there were several) about $2-4 a day, and the guide $10 a day from each guest, if he is like our guide (very sensitive as to how long to park the car as you watch each animal, slowing when he sees folks taking photos, etc.) The tips were given at the end of the week, privately,in an envelope with the person's name on it and our card/name. This camp had a "shared tip" jar in the office, but it was hard to find and it appeared few guests used it. We put in a small amount for the office staff, etc. You will find hundreds of confusing, argumentative, and sometimes unfriendly web discussions about tipping safari workers. Most of the comments are from people who do not seem to have spent much time in Africa and they are full of assumptions. After reading hundreds of these comments, we decided that our approach was best and the staff all seemed to be authentically pleased and grateful, but not surprised by their end of the week gifts. We verify with several people that the preferred currency is US dollars or Euros, but not Kenyan money.
Clothes, etc.: It can be warm and cool. Take layers of clothes, insect replant, a hat, and sun screen. If you can, leave your phones and computers at home. Very, very slow, dial up internet available in the office. Mobile/cell phone service is not necessarily available. Do not attempt to use a phone in the safari vehicles. Take several cameras (at least one with a telephoto lens) and lots of extra batteries. Bring extra memory sticks for your cameras, as you will want to shoot video too.
Time: Do not go unless you can stay for at least four nights. You won't be sorry if you stay 4-5 nights.
Food: Their chefs prepared many choices for each meal. Many items are flown in, such as excellent European cheeses. (Go early to lunch to avoid having flies get on your food, not a problem at breakfast and at dinner.) There is enough vegetarian food to have good meals. Although there is a lot of meat served. It is unknown if Halal or Kosher food is available; email the company to inquiry.
Family experience: Excellent choice for children over age eight and adults, all of who all of whom must be very well behaved. This means totally obeying all of the guide's "suggestions" and by using low or soft voices in the open air land cruisers to avoid annoying other guests and the animals. Never leave the safari vehicle for any reason, once you leave the camp.