If you want inspiration to really go wild with your own unique garden ideas, the Garden of the Monsters is a place you should definitely visit!
Known in Italian as il Sacro Bosco (Sacred Wood), or Parco di Mostri (Park of the Monsters), this totally unique and unusual garden is located just outside the hill town of Bomarzo, about an hour north of Rome.
According to the romantic story, in 1550s Prince Orsini, heartbroken by the death of his wife, commissioned the noted architect Pirro Ligorio to create this fantasy landscape. The park has more than 24 huge and fanciful sculptures, many carved directly out of the hillside's tufa stone: there are gods and goddesses, ogres, turtles, elephants, and many more.
They are laid out in a green and shady strolling garden which provides the visitor with a new surprise around every corner.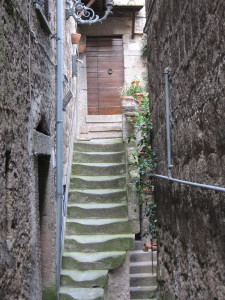 While in the neighborhood, be sure to explore (on foot) the small hilltown of Bomarzo: it is full of delightful alleyways, ancient churches, and a glimpse of Italian small town life.
---
Where: Località Giardino, 01020 Bomarzo VT, Italy 105 km north of Rome, Italy
What to do there: strolling and exploring the gardens, small gift shop and snack bar.
Special or interesting: carved stone sculptures.
Company website: www.parcodeimostri.com
Country Visa info: US citizens can stay in Italy for 90 days without a visa: your passport will be stamped on your arrival. If you are not American, please contact your country's Italian Embassy for information on Visas.
Where and how to get there: 20 km from Viterbo by bus or car
Cost: 10 Euro adults, 8 Euro children
Time: open daily 8:30am to 7pm (or sunset if earlier than 7pm)
Food: small snack bar with limited offerings
Family experience: Perfect garden for children with fantastical sculptures for climbing on and hiding in. Fascinating for adults.