Can you imagine experiencing the sweet, sour, and spicy taste of exotic fruits, the smells and colors of delicious flowers, and the sound of tropical, colorful birds all in a huge beautiful garden?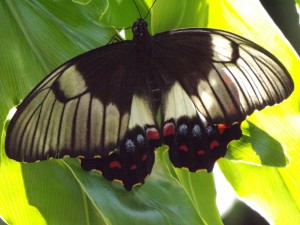 This is the world that the Brinsmead family has been toiling to create for over forty years on the site of largest extinct volcano in the southern hemisphere in New South Wales, on the Eastern coast of Australia.
At this large farm they grow hundreds of varieties of tropic fruits, which guests can see and taste while participating in the delightful Magic Garden Show, where we were able to taste, touch and learn about the tropical fruits, most of which never make to American grocery shelves. After the show, guests take a ride in a safari farm wagon through acres of hillside, visiting each part of the garden and stopping to learn about exotic tropical fruits, break open fresh Macadamia nuts, taste fresh picked bananas, and see and hear beautiful tropical birds.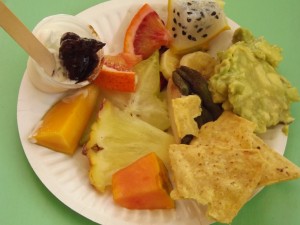 Just to keep kids interested, the park also includes a riverboat ride, a mini-train ride, a Tom Sawyer type island, and a petting zoo. All of these activities are included with admission. However to have fresh made ice cream made with your favorite fruits or other snacks, there is an additional charge. The garden also includes a shop and an online store, which has skin products, food, and souvenirs.
Located 60-90 minutes from Brisbane, the farm is an easy drive from the airport. It is near the Gold Coast of Australia, which has miles of beaches. The farm is located in the volcanic Tweed river valley, which is also home to many national parks which provide visitors with the opportunity to visit rain forests.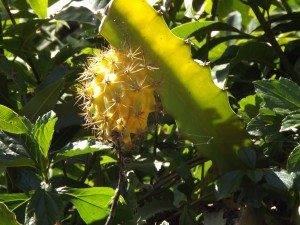 It is difficult to balance educating guests and giving them the entertainment most seek, according to Kelly Patterson, a manager at the farm, however she and her staff have managed to create an experience which leaves guests with a smile on their faces and a tummy full of yummy fruits.
We highly recommend spending a few hours learning about Australian tropic fruits, while enjoying the tastes of yummy, fresh fruits!
---
Website: http://www.tropicalfruitworld.com.au/
Where: The central Eastern Coast of Australia (the Gold Coast), north of Brisbane.
Open: 10 a.m.- 4.00 p.m. Open every day except for Christmas.
Cost: Adults $45 Children $25 (ages 4-16) Australian dollars.
Time required: 2-4 hours
Food: Several kinds of food, including fresh fruit are available at the store, a snack bar and a juice bars. Moderately priced. The facility does not appear to cater to Halal or Kosher diets. There are not many other choices for food near this venue.
Australian Gold Coast Tourism Office: http://www.australia.com/explore/cities/gold-coast.aspx
Australian Visa Information: http://www.immi.gov.au/visas/visitor/600/
Family experience: Very good!